The iconic Max Mara blazer or Zara? – Lets talk about it!
I have been quiet on the blog lately, sorry! May was a month of working on various projects that's been taking up my time, which has been more of the behind the scenes work that I do such as, fashion marketing and PR work. I will be revealing more in my #LifeOfAMarketingGirl section next week. I know some of my followers have asking for me to share more about all of that, so I plan on sharing personal work stories for ya'll!
Lets talk about this jacket now, as it is a major staple piece that is going into my wardrobe!
Previously in one of my style post, I spoke about fast fashion and how I wasn't really inspired by much as of late. Then last week I was scrolling on the Zara website (as you do) and saw this blazer and thought OMG my mum would love this. It reminds of one of my favourite brands Max Mara who are renowned for creating the most amazing, classic, iconic blazers.
What I love most about this jacket is that you can wear it over and over again, in various styles. And it reminded me to get back on track and continue to shop for classics to build a staple piece wardrobe collection. Starting with luxe basics that are versatile through the season. Zara have a lot of chic blazers and jackets at the moment in many colours but red struck my attention because it was a bold red, that compliments what I already have in my wardrobe.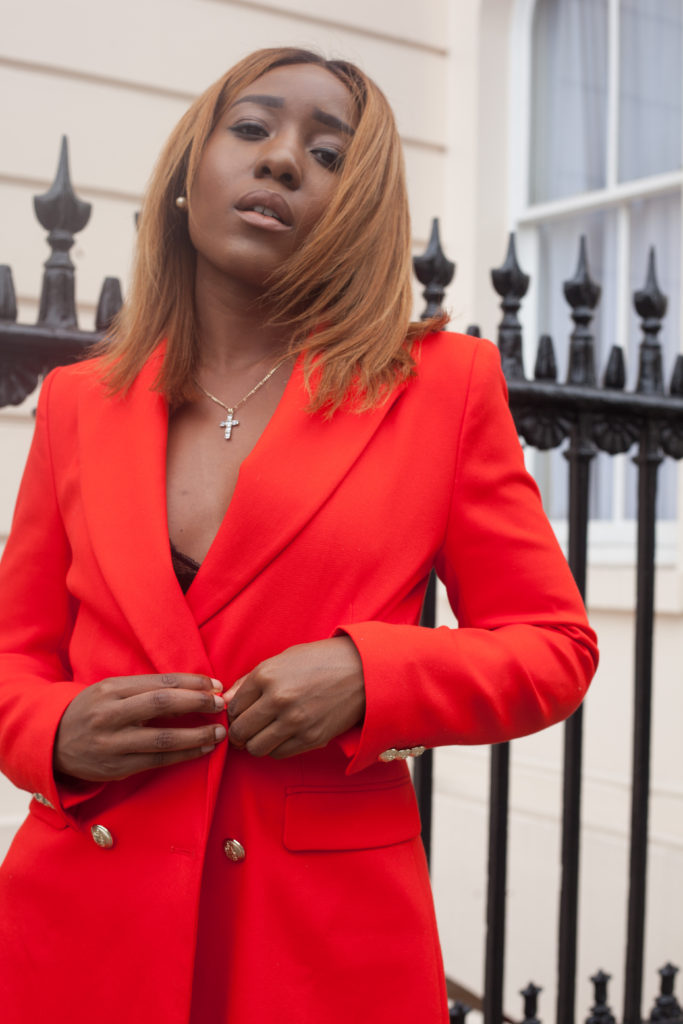 I styled the blazer with exactly how I would like to wear it out for date night. Forever 21 lace bra-let and flared trousers from Zara. Completing for a classic, sexy and feminine look. I'm thinking to style the jacket on it's own next with knee high boots!
Trousers – Zara  (similar)
Blazer – Zara 
Shoes – Stuart Weitzman 
Top – Forever 21 
Photography – Vinn 
Olivia Gold x