And AD campaign that you will believe?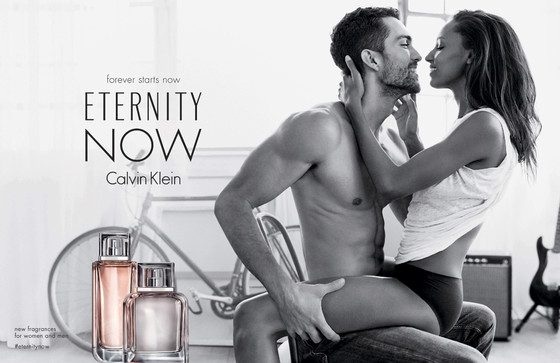 Calvin Klein released the new ad campaign for their new men and women perfume Eternity Now. Eternity Now evokes "the moment in time where you know it's forever", and follows 2014's Eternity Night.
This campaign is more than just an image of beautiful models, it also captures real love. The campaign, shot by photographer Cass Bird, "conveys the raw expression of love and emotion between a young couple. Models Tobias Sorensen and Jasmine Tookes are a real-life couple! With their authentic chemistry the image embodies value, class, love and romance of Calvin Klein Advertising campaigns.
A campaign image like this is the new social influence for brands and products. Consumers are more demanding in the new digital age of advertising and will not just buy into the product unless they are loyal customers but also want to buy into the lifestyle and what the brand/product represents. Calvin Klein used the couple's beautiful photogenic skills and genuine love and applied that to the Calvin Klein Eternity story.
Eternity Now for Women – A sparkling floral with lychee, quince sorbet, peony, peach blossom, neroli, cashmere veil, ambrox and musk.
Eternity Now for Men – An oriental fougère with ginger, coconut water, star anise, starfruit, cedar, patchouli, tonka bean and vanilla.