The afternoons are getting shorter and the evenings are getting longer, which means winter is here. I am easing my way into my winter wardrobe by mixing textures, colours. I am leaving towards comfortable looks which are still feminine, flirty and casual. As I get older my tolerance for the cold gets less and less. I can feel it in my bones more (basically I'm getting old lol).
Introducing you to my winter wardrobe
I brought back my pink fluffy jumper I got from H&M last winter, which I bought 2 sizes bigger, so it has that sung feel and drops on me like a hanger. I colour block this jumper with a satin finish rouge red A-line skirt, also from H&M. I love the clash of red and pink, it is a strong combination and really stands out, but also fits with the winter feel because of the clash of textures.
Adding some sass to this look I wore gold River Island heels that I have had for years that look identical to Aquazzara but are not lol. What I love about this look is, you can easily switch the heels with trainers and wear a pair of Stan Smiths and still look just as good.
So as I start to pull out my winter favourites, let me know what you would like to see and what your winter comfort go too's?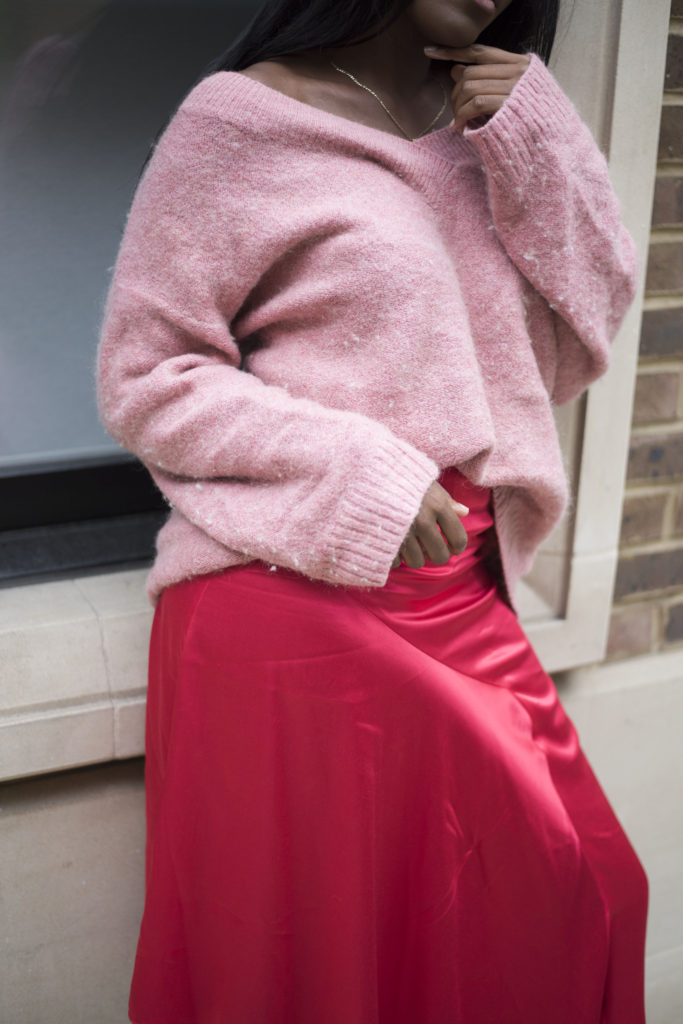 Skirt – H&M
Jumper – H&M (similar)
Heels – River Island (similar pair from Asos)
Photography – Burchadtlens